Studio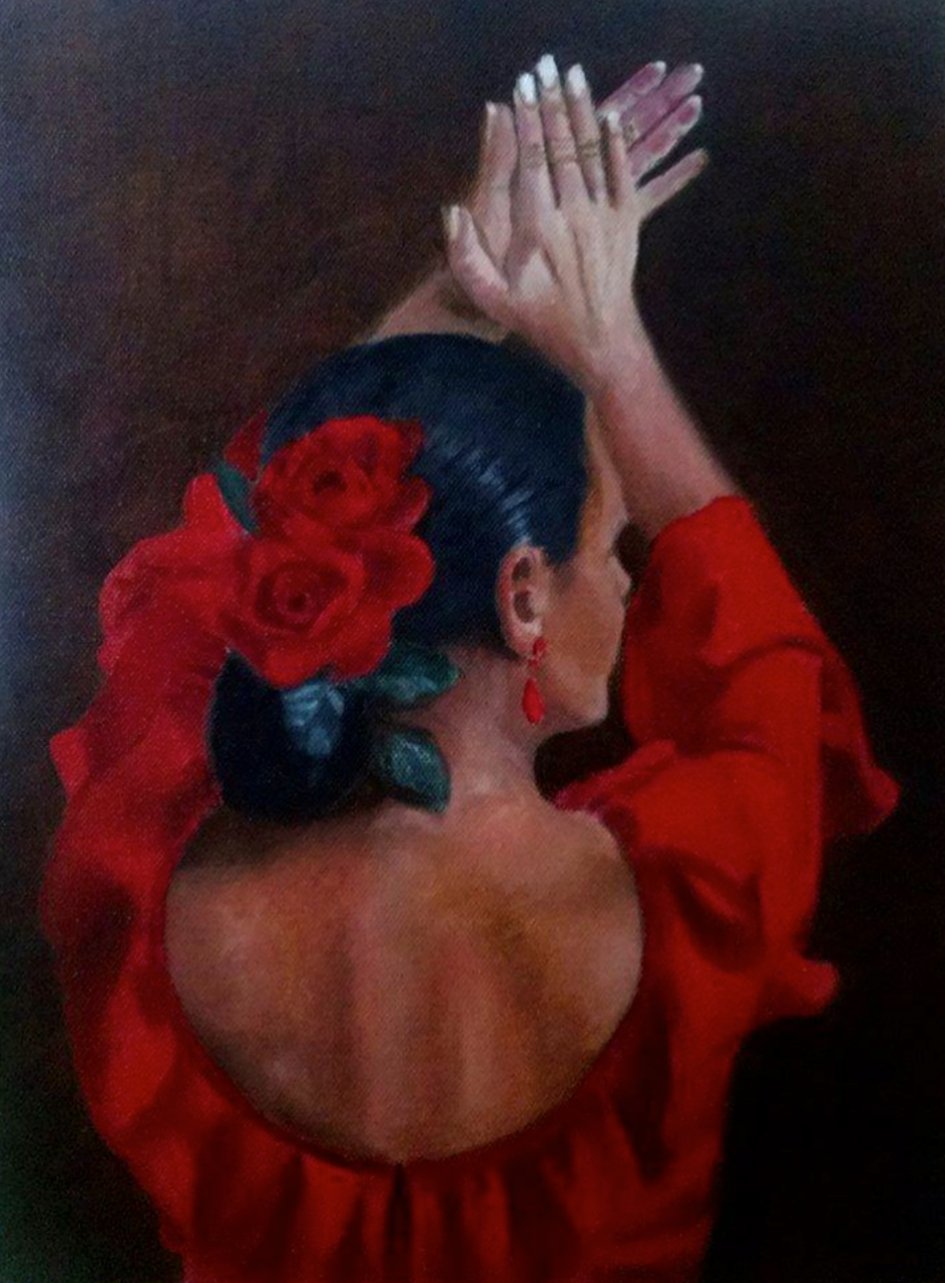 Carmen de Torres painted by the talented artist Carmen Luna Cerviran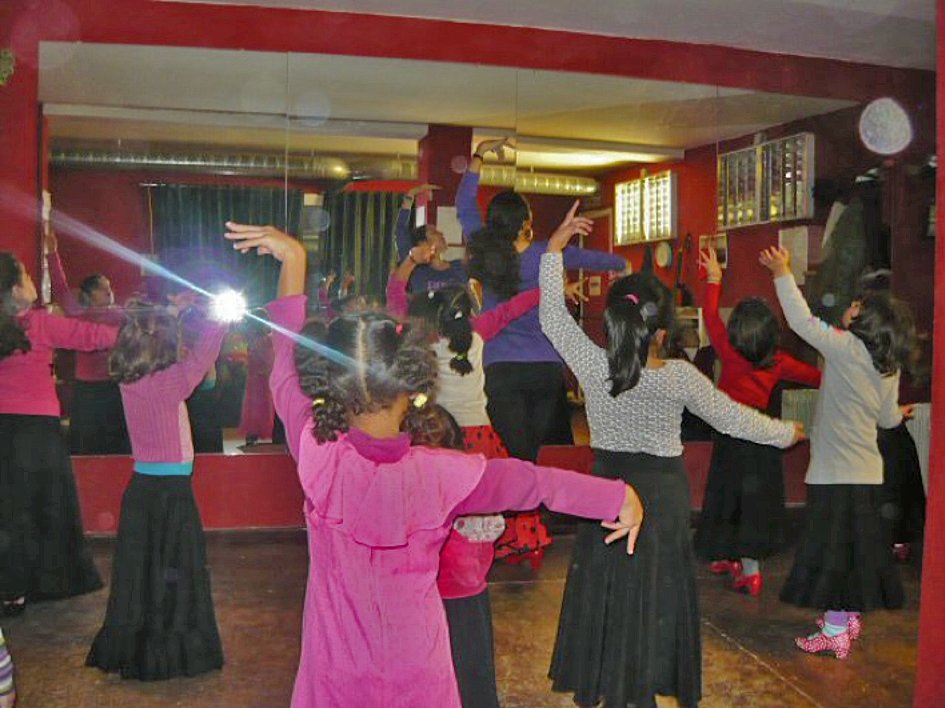 Little ones learning flamenco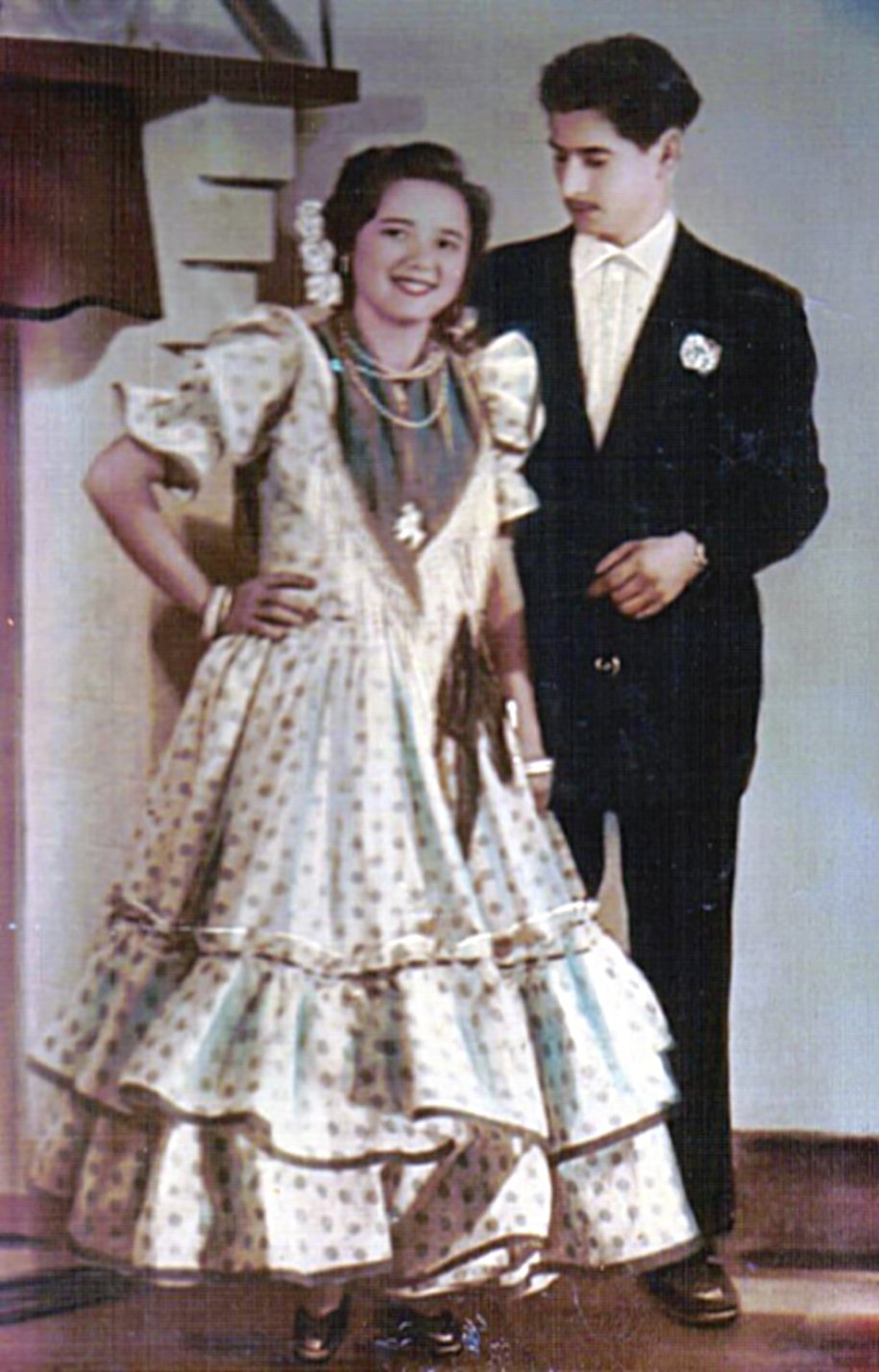 Carmen de Torres parents
This school is located in Mariana Pineda 2 (Glorieta the Garrotal) Tomares, a town that is just 5 minutes from Sevilla downtown. Convenient transportation by bus from the center of Seville (Plaza de Armas bus station and Puerta Triana) every 15 minutes .
We Teach, flamenco dance at all levels by different teachers. Classes of flamenco, guitar and percussion. Of course also Sevillanas. It is open to the public morning and evenings, classes for people of all ages are taught from ages 3 and up. From the most basic to the most advanced for people who want to practice flamenco as leisure or work professionally. All the teachers at this school are active professional artists. Many of our students are working professionally in Spain and abroad.
We teach private classes, classes for organized groups, intensive courses and yearly classes lasting from October to June each year.
The aim of this school is to create a solid foundation for developing the art of flamenco, and to bring closer to everyone this universal art, to practice and activity. This activity that is good for the mind and body and of course to learn according to the ability and capacity of each individual.
Below you can see a list of some of the latest performances done by the our students as a group. The students also perform independently but those activities are not mentioned here.
2015
Hotel El Alabardero, Sevilla
Golf Club, Moscú
Congress, La Raza, Sevilla
Casa Pilatos, Sevilla,
Hotel Alfonso XIII de Sevilla
ARTISTA: teatro municipal de Gelves, SEVILLA
LAS AMAPOLAS: 2013 teatro Municipal de Valencina dela Concepcion, Sevilla
Floral Pavilion Theatre en Liverpool, 2013
EL MUNDO SE DESMORONA: teatro de Valencina de la Concepción el 29 de junio del 2012
University of Liverpool by Peña Flamenca de Liverpool . 2012
Feria de Sevilla 2011
Teatro municipal de Valencina "Castillitos de Coral" 2011
Teatro Municipal de Marchena "Dibujando el Aire"2011
Teatro Municipal del Saucejo BAILANDO CON LAS OLAS. 2010
Teatro municipal de Valencina, Sevilla 2010
colegio Luis Cernuda de Castilleja de la Cuesta para las Jornadas de la Paz 2009
Teatro de Valencina de la Concepción Sevilla 2009
Desfile de Moda Flamenca, Hermandad de la Plaza de Castilleja de la Cuesta, 2009
Vela de la Calle Real, Castilleja de la Cuesta, Sevilla 2008
Peña Sevillista de Castilleja de la Cuesta, Sevilla 2008
Teatro de la Politécnica, Así Somos, Sevilla 2007
Universidad de Sevilla, facultad de Psicología, 2007
Cortijo el Esparragal, Sevilla 2007
Universidad de Santa Bárbara, California 2006
Feria de Sevilla 2006
2000-2006 Feria de la Mujer en la Plaza Nueva de Sevilla, Delegación de igualdad del Ayuntamiento de Sevilla
Casa de la Cultura de Castilleja de la Cuesta.2006
Russia: "Manezh" arena; Shchelkovo, Hall of the House of Cosmonauts, Zvezdny Gorodok (Star City) with artists: Yuri Rozum, Bolshoi Opera soloists, "Talisman" Group
Jardines de la Buhaira 2005
Plaza Nueva en la Feria de la Mujer 2005, Sevilla
Jardines de la Buhaira 2004
Caseta Casco Antiguo, Feria de Abril 2004
Cruz de Mayo Casco Antiguo 2004
Many other performances repeatedly in the following locations and events : Caseta Fiestas Mayores, Feria de Abril, Reales Atarazanas, Feria de la Mujer. Centro Cívico Cerro del Águila, Sevilla a Escena. Palacio de Congresos, Feria de la Mujer. Congreso de Ingenieros en Casino de la Exposición. Festival Flamenco de Albaida del Aljarafe. Hamburgo Flamenco Festival, Alemania. Casino de la Exposición Feria de la Mujer. Jardines de la Buhaira 2002…………………………………………………………………………………………………………
youtube
https://www.youtube.com/channel/UCCgZ4BnPzdvVXsa7U_4ogbQ
https://www.youtube.com/user/mikadoful
https://www.youtube.com/user/flamencamonica
https://www.youtube.com/user/walwanpri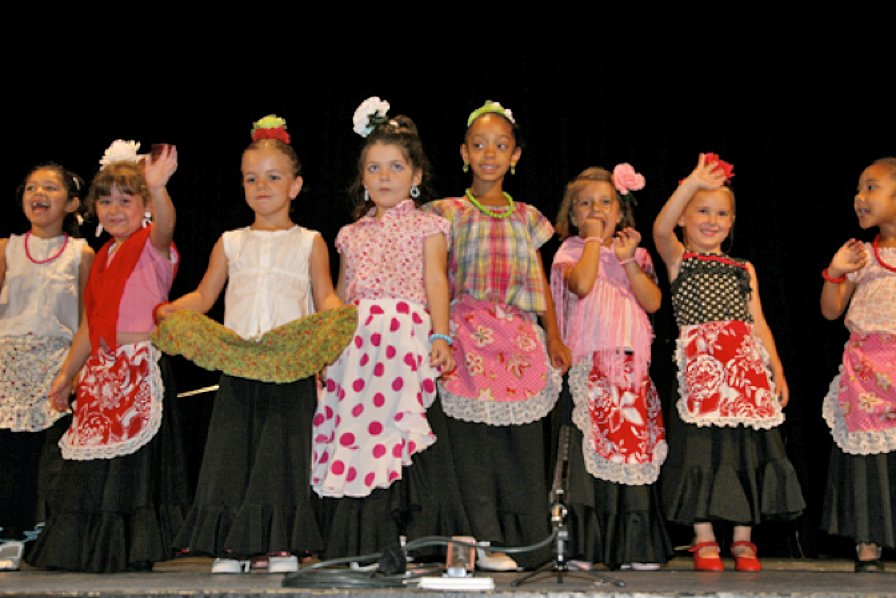 Students from 3 to 5 years old performing at the year-end recital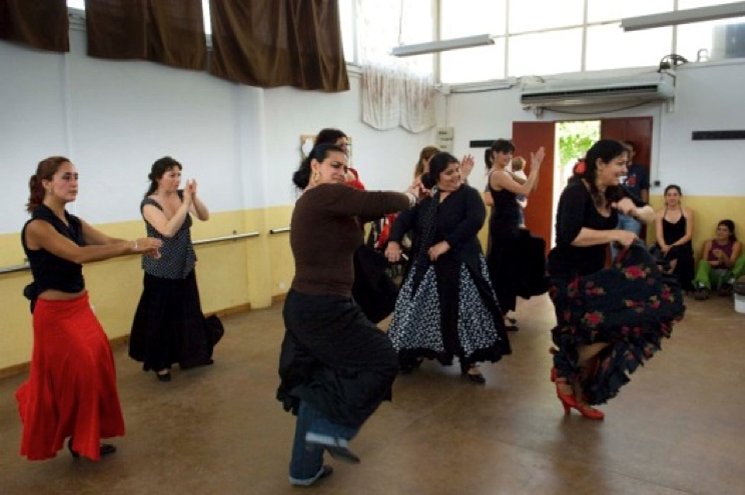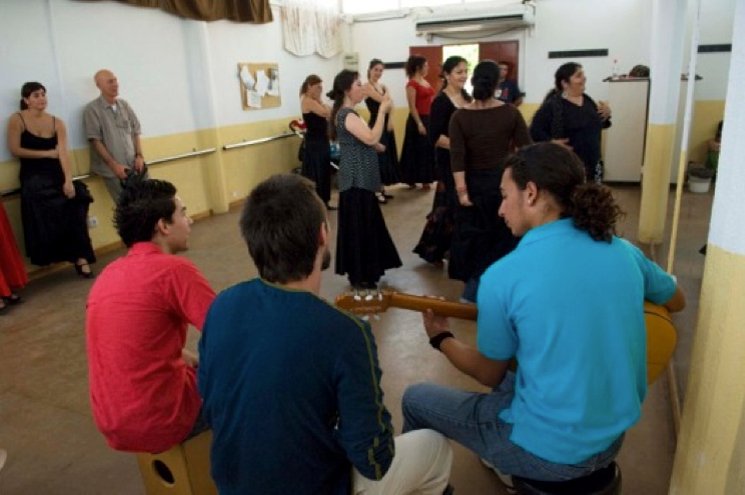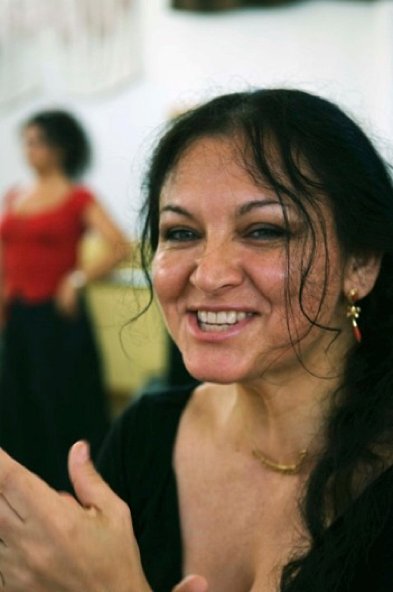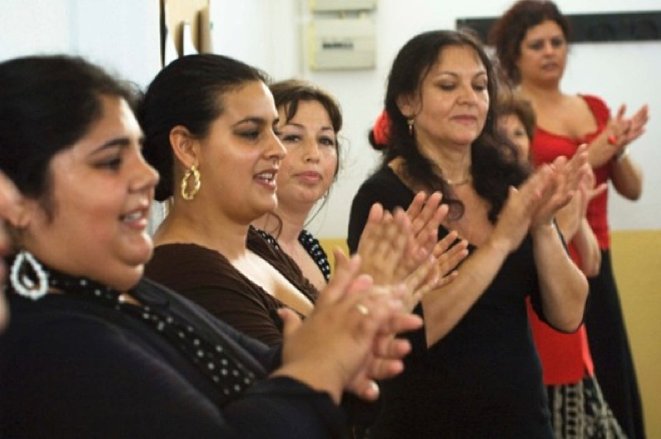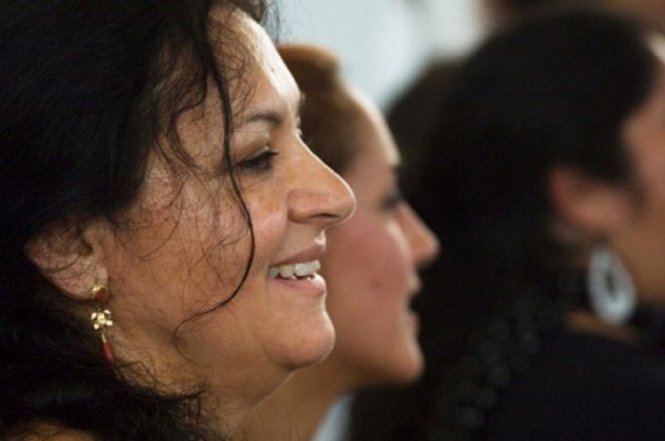 Carmen teaching at the 3000 VIVIENDAS (Poligono Sur) Artes Escénicas en flamenco course organized por REDES Ayto. De Sevilla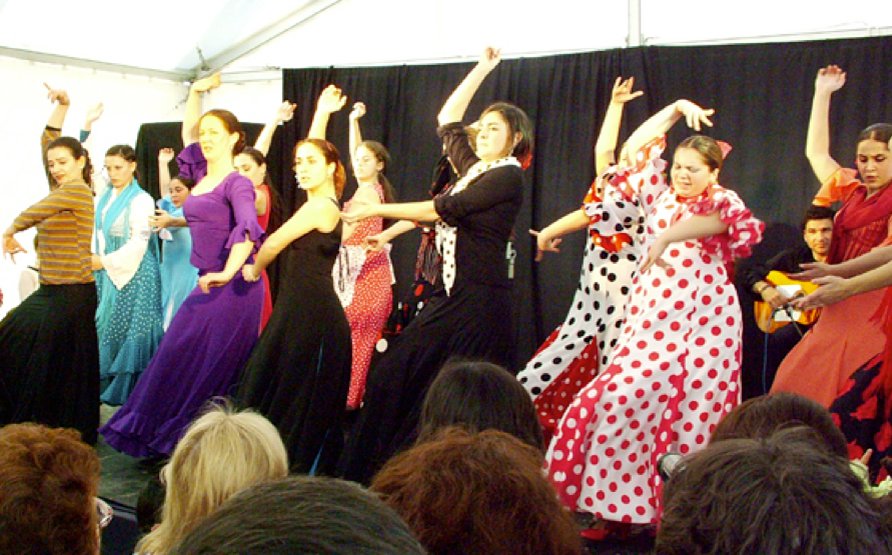 Feria de la Mujer, Plaza Nueva, Sevilla